1:29 pm
[grrlskout]

Amanda Palmer (from the Dresden Dolls) is releasing a solo album (produced by Ben Folds) called:
"Who killed Amanda Palmer"
funny.
More info
here
.
Current Mood:
amused
5:45 pm
[grrlskout]

TVShowsonDVD.com Release Cover Artwork for new Twin Peaks "Definitive" Gold Box Set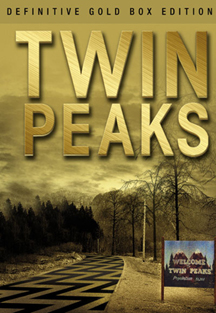 TVShowsonDVD.com, TVShowsonDVD.com have released the artwork to what CBS/Paramount is calling a "Definitive" Twin Peaks Gold Box Set. While it is great news that the Pilot will finally be released in the US and remastered, one has to raise a few questions to CBS/Paramount. The number one question being "Will the Pilot be released separately for those that do not wish to buy the entire series again?" I get this question emailed to me on a regular basis and so I decided to contact CBS/Paramount to find out a few weeks back. Their response was that there were no plans at this time. Back to the new box set, one must also ask so what is it that makes this set the "Definitive" Gold Box set? Well, it seems they will be releasing the rest of the interviews that they saved over from the Season 2 box set along with some new ones that they have been shooting over the last few months. I also made a separate inquiry about whether or not they would address some of the audio issues that fans had complained about or if they would include the original 2.0 audio mixes as one would think that a "Definitive" set would include the original audio mixes. I was told that the masters were locked but the request would be "passed on" to the powers that be. Additional rumors that the Season 2 Soundtrack may be packaged with this release, but then again, if that happens, it will also b released as a stand alone CD. Finally, there has been much speculation on whether or not any of the TV Series Deleted Scenes will be included in this box set. After all we're talking about a "Definitive" Gold Box set here. Guess again. I have been told that Lynch agreed to do Deleted Scenes for this release but that CBS/Paramount, like New Line did not want to pay for the transfer costs that Lynch has requested to have the Deleted Scenes to the TV Series mastered properly. It's a sad day when you can buy a 4th Generation VHS to DVD bootleg transfer of Twin Peaks Deleted Scenes on Ebay but you can't find them anywhere on a so called "Definitive" Twin Peaks DVD set. We're discussing the new release over at the Dugpa.com Discussion Board. Thanks to Wil Railey for the heads up.
2:53 pm
[grrlskout]

In Twin Peaks!
You guys should check out this new Twin Peak site!
This guy named Charles has been going around researching ALL the filming locations, taking pictures from the SAME angles and showing what these places look like today, along with more info about the locations and trivia.
http://www.intwinpeaks.com/
11:44 am
[grrlskout]

Rare Twin Peaks clips
Just saw this on dugpa.com in the message boards and thought I'd pass it along:
My high school friend was obsessive over Twin Peaks when it was on and taped almost everything he could find about Twin Peaks. He recently dusted off his tapes and burnt the material to DVD. A lot of it I've never seen online.

You can download the DVD here: http://www.mininova.org/tor/637977

You'll need a bittorrent client to grab it.

Since everything was originally broadcast over the air, I'd have to assume that this is fair use. There's some great clips in there- the "Peek A Boo" parody is my favorite.

Contents:
ABC Season 1 Intros, Outros, and Bumpers

ABC Season 2 Intros, Outros, and Bumpers

Julee Cruise "Falling" Music Video

Behind The Scenes- Twin Peaks & Cop Rock
ABC promo special hosted by Alan Thicke.

AFI Presents TV or Not TV - "Peek A Boo"
From a 1989 TV Special. Alyssa Milano and Michael McKean star in a Twin Peaks parody.

E! Kyle MacLachlan Interview

1990 MTV Video Music Awards

Kyle MacLachlan on SNL + Promos

ET - The Women of Twin Peaks

Madchen Amick on Into The Night
Madchen Amick interviewed by Rick Dees. (She also ties a cherry stem into a knot with her tongue.)

Preview - Sherilyn Fenn's Secret

Obsession Ad - Directed by David Lynch

CNN Showbiz Today - Ray Wise Interview

ET - Post Murderer Revelation

E! - The Future of Twin Peaks?

Enjoy!
12:53 pm
[grrlskout]

Twin Bricks!
I think this is freakin' BRILLIANT!!!!!!!!!!!!
(*possible* spoilers if you haven't watched both seasons.....)
Current Mood:
amused
3:29 pm
[grrlskout]

Welcome!
I've decided to try this community once again. It started as a trading community back in 2004 for members to trade their old videos/dvds, TP merch and cool self-made merch. It was killed pretty quickly by a set of negative circumstances.... but now I've decided to reopen as a regular Twin Peaks community!
And trading is still allowed.
Though I do have to ask that bootlegs of the episodes that are available to purchase not be sold through here.
Other than that... HAVE FUN!!!!! ;O)
Current Mood:
happy